Martin Cannon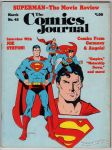 Interview with Joe Staton, indepth review of Superman: The Movie.
Roughly 8¼ × 10¾"
Other artists: Klinger (first name unknown), T. Herzog and Daly (first name unknown; Sam de la Rosa?).
Some writers/artists listed above were in the issue's list of contributors but may not be credited by the piece. It's a bit perplexing as some of the artists I can't match to art.
United Fanzine Organization memberzine.
Special Harlan Ellison issue.  Three interviews with Ellison.  Comic strip adaptations by Bret Blevins of "Basilisk" and "Soldier" by Kerry Gammill.   A photo guide to Ellison Wonderland, and more.   There also exists a limited signed edition of 200 copies.