Larry Welz
[Note: At least one image in this entry was found online (probably at an auction site) and saved for personal use. And then the Database project came along! If you recognize your image we'd like to have your permission and would love to give you credit for your work. Please contact us through Site Info > About in the main menu up top.]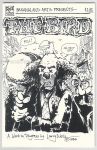 Preliminary mini-comix version of The Bird by Larry Welz. Fairly scathing satire of the comics industry including targets such as Walt Disney / Dan O'Neill, TMNT / Kevin Eastman / Tundra, dealers and Stan Lee.
One of Roger May's San Diego con minis.

There may be more contributors than listed above.