Kurt Schaffenberger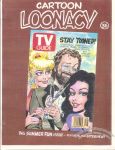 This issue contains a 15-page story by Brian Buniak that stars Bettie Page and his characters Apricot O'Toon & Babette Quark. It's kind of a talk-show format and features guest panels drawn by Kurt Schaffenberger, Bob Laughlin, Gary Fields, Howard Simpson, George Erling, Howard Bender and Mark Campos.

Other standouts include: TV Guide parody cover by Buniak and three pages of Gene Deitch illustrations from The Record Changer.

Characters appearing in art and comics include: Wolverine, Cap'n Crunch, Stan Lee, Howard the Duck, Joe Camel, Fred Hembeck, Bazooka Joe, Moebius' Arzach, Rocky Squirrel, Cathy, Flattop, Astro Boy, Kermit the Frog, Goofy, Superman, Kitz 'n' Katz, Krazy Kat, Mr. Natural, Joe Matt, Barney the Dinosaur, Beany & Cecil, the Cat in the Hat, Wile E. Coyote, Joe Tater, Bill Clinton, Jessica Rabbit, Dagwood Bumstead, Captain Haddock and Ren & Stimpy.
Fewer than 50 copies usually printed (probably more like 25).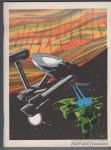 Contents include: interview with Walter Koenig (Ensign Chekov); "Star Trek Revisited" article; production drawings for the Star Trek animated series; three articles on the Captain Marvel family, villains and 1940s serials; one-page profile of Kurt Schaffenberger; a Collector cover gallery; two pages of Zero Hero by Harvey; four-page Steve Ditko comic; "A Short History of Pulp Fandom" article; "The Heroes of Nostalgic Literature: Pulps vs Comics" article; article on the resurrection of Will Eisner's Spirit; article on the Perry Rhodan series; 10-page Greenhorn comic by Hanley; letters (Bill Gaines, others); more.
Characters include: William Shatner/Captain Kirk, Leonard Nimoy/Mister Spock, Nichelle Nichols/Lt. Uhura, USS Enterprise, the Demon, Superman, Captain Marvel, Sivana, Captain Marvel Jr., Mary Marvel, Superman, Mr. Mind, the Shadow, Doc Savage, the Spirit, Lightray, Darkseid, Mister Miracle, Big Barda, Alley Oop
Offset, some interior color, saddle-stitchd.