Kenneth Huey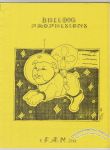 Publication of FAN (Fandom Alliance Network) and entirely produced during a 1988 Dallas Fantasy Fair.

Contents include a report on con meetings and panels, a three-page jam prose story, and a four-page jam comic.
Roughly 11 pages (one-sided), corner-stapled.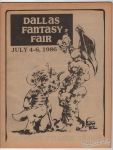 Scheduled guests included Jack Kirby, Will Eisner, Joe Kubert, Harvey Kurtzman, Pat Boyette, Frank Miller, Gary Groth, Burne Hogarth, Jaxon, Gil Kane, Moebius, George R.R. Martin, Mike Gustovich, Dave Sim, Dave Stevens, Eric Vincent, Don Simpson, Kenneth Smith, Robert Asprin, Doug Wildey, John Wooley, Roger Zelazny, cat yronwode, Pat Broderick, John Carbonaro, Sam de la Rosa, Colleen Doran, Real Musgrave, Richard Pini, Ben Dunn, Brad W. Foster, Kerry Gammill, Gerhard, William Messner-Loebs, Don Ivan Punchatz and others.
Roughly 8¼ x 11".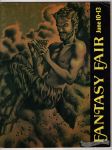 Contains photos (by Joe Bob Williams) from early '70s Dallas cons featuring Harlan Ellison, Larry Herndon, Neal Barrett Jr., Paul McSpadden, Joe Bob Williams, Howard Waldrop, Burne Hogarth, Forrest J. Ackerman, Buddy Saunders, Don Punchatz and others.
Roughly 8¼ x 11" (8½ x 11" trimmed).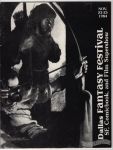 Scheduled guests included Robert Crumb, Gary Groth, Jaime Hernandez, Gilbert Hernandez, Jack Jackson, Denis Kitchen, Harvey Kurtzman, Spain, Gilbert Shelton, Don Ivan Punchatz, Dave Sim, Pat Broderick, Bob Burden, Brad W. Foster, Dick Giordiano, Jan Strnad, Doug Moench, Real Musgrave, Jim Shooter, Kevin Nowlan, Doug Potter, Jerry Ordway, Doug Smith, Kenneth Smith, Eric Vincent, Matt Wagner, Howard Waldrop, Marv Wolfman, John Wooley, cat yronwode and others.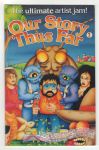 Phenomenal jam comix project organized by Brad W. Foster. Each artist contributed one page which built upon and furthered the pages completed before them.
Appearances by Gregor Samsa, Franz Kafka and cockroach-y versions of Moe Howard and Laurel & Hardy.
Full-color covers on coated stock.