Ken Mitchroney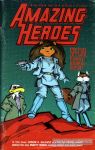 Edd Vick interviews Steve Gallacci, "Why a Duck?" (36 cartoonists on why they deal in funny animals), Rowrbrazzle portfolio section, letter from James Pugh looking for fan artists.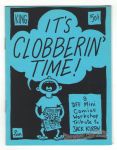 Jack Kirby tribute mini from the Dallas Fantasy Fair Mini-Comics Workshop.
Special animation issue.  Articles on Disney's Fantasia, on the Fleischer Superman cartoons, George Pal's Puppetoons. Photos of Wendy Pini in costume as Weehawk from Wizards, plus other articles. 
Special Harlan Ellison issue.  Three interviews with Ellison.  Comic strip adaptations by Bret Blevins of "Basilisk" and "Soldier" by Kerry Gammill.   A photo guide to Ellison Wonderland, and more.   There also exists a limited signed edition of 200 copies.