Ken Kelley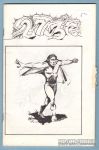 Contents include "The Rise of British Fandom" article, comics news, fanzine recommendations, fandom news, columns, letters, more.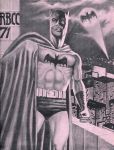 Editorial features include: 
Cover by Mickey Mason.
"COMIC COLLECTORS COMMENTS" by Howard P. Siegel. 
"RBCC INFORMATION CENTER" by Raymond Miller. 
Chapter 1 of "The Starmasters" comic strip by Bill Black. 
"HOT AIR FROM A COOL FAN" by Andy Warner.
"BLASTS FROM THE READERS" with letters from Mark Feldman, Joe Sarno, Mike Tiefenbacher, and Chuck Rhoads (editor of 7:38)
Ads for:
ALTER EGO #10 and 11
ANOMALY #1 and 2
ARMAGEDDON (UK zine)
BIOVERSE #4, 5
CAPTAIN BILJO PRESENTS #2
CAPTAIN PARAGON #1
COMICS COMMENTARY #1, 2
COMPLETE INDEX TO MARVEL COMICS
DIMENSION #4
ENIGMA '70  (published?)
FANDOM ANNUAL #1 and 2
FANTASTIC EXPLOITS #15
FIGHTING HERO COMICS #14
Frazetta posters from Worldbeater Posters
FUNNYWORLD #12
GOLDEN AGE #6
HEPHSEMIS #1
INCOGNITO #8
INFINITY #1
PARAGON ILLUSTRATED #1 and 2
ROCKET'S BLAST SPECIAL #7
SQUA TRONT #4
STYX #1
TEMPEST #1 and 2
THE COMIC WORLD #14 (Robert Jennings)
THE WONDERFUL WORLD OF COMIX #3
YESTERYEAR #1