Keith Woods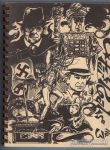 Contents include a 10-page Star Wars/Star Trek crossover parody comic and artwork by Brad W. Foster and others.
Characters appearing in fan art include: a Klingon, Chewbacca, Mr. Spock, misc. Battlestar Galactica, Mork from Ork, Yoda, Darth Vader, R2-D2, Han Solo, Luke Skywalker, Carrie Fisher/Princess Leia, George Lucas, C-3PO, Apollo/Richard Hatch, Starbuck/Dirk Benedict, Adama/Lorne Greene, Boomer/Herb Jefferson Jr., Kermit the Frog, Conan the barbarian, Red Sonja, Captain Kirk, Indiana Jones
Comb-bound.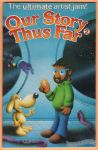 Phenomenal jam comix project organized by Brad W. Foster. Each artist contributed one page which built upon and furthered the pages completed before them.
Appearances by Morty the Dog, Underdog and Peter Laird's Triceratron.
Full-color covers on coated stock.