Joseph Tenney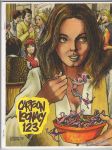 Some of the contents include: a hot rod fold-out mini-poster by Gary Fields

Characters appearing in art and comics include: Donatello (Teenage Mutant Ninja Turtles), Quickdraw McGraw, Godzilla, Martian Manhunter, Hank Hill, Jughead Jones, Homer Simpson, Speedy Gonzales, Pig (Pearls Before Swine), Dondi, Dilbert, Mr. Weatherbee, McGruff the Crime Dog, Daddy Warbucks, Sergeant Snorkel (Beetle Bailey), J. Jonah Jameson, the Punisher, Montgomery Burns, Popeye, Alice (Dilbert), Stan Smith (American Dad), Hagar the Horrible, Steve Ditko's Mr. A, Luke Skywalker, IG-88, Boba Fett, Darth Vader, Yoda, Lobot, Mars Attacks, Jetsons characters, Steven Tyler, Buttercup (Powerpuff Girls)

Insert included with this issue: Trub mini-comic (Kraiger), Drawin' for Fun Sketchbook #2 mini-comic (Erling)

Central Mailer for this issue: George Erling and Gary Fields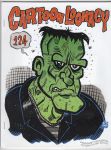 Characters appearing in art and comics include: Frankenstein's monster, Pinocchio, Betty Boop, Alice (Dilbert), Snow White, the Beatles, Batman, the Joker

Insert included with this issue: It Is What It Is mini-comic (Fields) and Drawing for Fun Sketchbook #3 (Erling)

Fewer than 50 copies usually printed (probably more like 25).

Central Mailer for this issue: George Erling and Gary Fields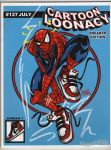 Characters appearing in art and comics include: Spider-Man, Batman, Captain America, Red Skull, the Joker, Frankenstein Jr. and the Impossibles, Space Ghost, Fantastic Four (Invisible Woman, H.E.R.B.I.E., Mr. Fantastic, Human Torch, Thing), Augie Doggie and Doggy Daddy, Bill Clinton, Ozzy Osbourne, Teenage Mutant Ninja Turtles (twice), Han Solo, Tauntaun

Insert included with this issue: A Witch Named Koko #6 mini-comic (Brubaker) and Nart of This Earth mini-comic (Siergey)

Fewer than 50 copies usually printed (probably more like 25).

Central Mailer for this issue: George Erling and Gary Fields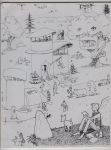 Characters appearing in art and comics include: Rocko's Modern Life, Thor, Hulk, John Lennon, Richie Rich, Batman, Jiminy Cricket, Boo Ferris, Ray Harrell, Donald Trump, Joker, Penguin, Riddler

Insert included with this issue: Truth Be Known book (Maximum Traffic), Hypnospiral Comics #7 (Alvarez) and a Riso print (Yeater)

Fewer than 50 copies usually printed (probably more like 25).

Central Mailer for this issue: George Erling and Gary Fields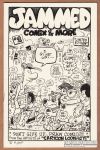 Collection of jam comix (and a few odds & ends) from members of the Cartoon Loonacy APA.
Saddle-stitched, b&w interiors, card stock cover.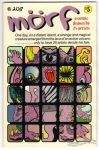 Jam comic by 25 artists in which each artist only saw the page before theirs. When all the drawings were done Billy McKay wrote a story around them.
Full-color throughout.