Jon Farwell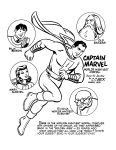 Features an interview with CC Beck, comic strip by Mike McKenney, and a "Fan-Pro Showcase" spotlighting artist Jon Farwell.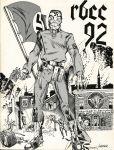 Editorial features include:
Cover by Jon Farwell and Andy Warner
 "THE WILLIAMSON COLLECTOR" by James Van Hise and Larry Bigman. 
"PULPS — ERA OF ADVENTURE" by JVH and Robert Weinberg.  "RBCC INFORMATION CENTER" by Raymond Miller. 
"PREMIUM CLASSICS" by Rex Miller. 
"Star Trek Festival" report by Orlando Falcon. 
"COMIC COLLECTOR'S COMMENTS" by Howard P. Siegel, including a FANDOM PROFILE of John Ryan. 
"An Interview with Milton Caniff" by Jay Maeder.  
"BLASTS FROM THE READERS."
Ads for: 
AARDVARK PAPERS #1 and 2
CHRONICLE #1 and 2
COMIC BOOK PRICE GUIDE 2nd edition
COMIC ZINE #2
FANDOM ANNUAL #3
FANTASTIC EXPLOITS #15 thru 22
FIGHTING HERO COMICS #14
FINDERS KEEPERS #1
GRAPHIC ILLUSIONS #1
MARVEL TIMES #1
NEWTON PORTFOLIO
NOVA #1
PARAGON #4
PHASE #1
RAGNAROK #1 and 2
ROCKET'S BLAST SPECIAL #8
THE BUTTON BOOK (Ted Hake)
THE BUYER'S GUIDE FOR COMICS FANDOM
THE COLLECTOR'S HANDBOOK Vol. 4
THE GOLDEN AGE COLLECTOR #1
UNFINISHED WORKS: A PORTFOLIO (Sal Quartuccio; published?)
VOICE OF COMICDOM #17
YELLOW BALLOON #4, 5