John Wright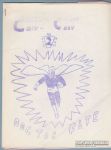 Fanzine from the Chicago chapter of the Academy of Comic Book Fans and Collectors (aka Comic Collectors of Chicago). Formerly titled just Chicago Chit-Chat.

Contents include artwork (including a full-page by Bill DuBay), a puzzle page, and an open letter to Stan Lee from South African John Wright.
Ditto, corner-stapled.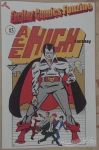 Interview with and unpublished artwork by John Wright, article on British small press by Terry Hooper-Scharf, Steve Keeter Sunwing reprint from 1972, and more.