John Smallwood-Garcia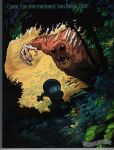 Contents include pieces on Barb Rausch and Golden Age writer Dorothy Woolfolk as well as art sections in tribute to Wonder Woman's 60th anniversary, Fantastic Four's 40th anniversary, Bone's 10th anniversary, Captain America's 60th anniversary, Carl Barks' 100th birthday and The Lord of the Rings.
Appearances in art by Bone, Wonder Woman, Huey, Dewey & Louie, Beany & Cecil, Captain America, Scrooge McDuck, Fantastic Four, Hobbits, GoGirl, Harley Quinn, Sub-Mariner, Dr. Doom, Galactus, Dragon Man, Mole Man, the Watcher, Gandalf, Bilbo Baggins, Gollum, Donald Duck, Usagi Yojimbo, Radioactive Man, Red Skull, Bucky Barnes, Baron Zemo, MODOK, Nick Fury, Giant Man, Thor, Iron Man, Falcon, Shaloman, Miss America, Cutey Bunny and others.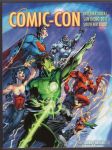 Contents include pieces on the history of comics fandom (with many fanzine profiles and scans), Lee & Kirby, anniversary tributes (Fantastic Four, Antonio Prohias' Spy vs Spy, comics in 1986, Watchmen, Dark Horse Comics, SLG, Bone), more.

Appearances in art by Fantastic Four, Justice League of America, Stan Lee, Jack Kirby, Galactus, the Watcher, Avengers, Inhumans, Black Panther, Sub-Mariner, Silver Surfer, Dr. Doom, Mole Man, Annihilus, Skrulls, Hulk, Spy vs Spy, Batman, Rorshach, Dr. Manhattan, the Comedian, Maus, the Joker, Boba Fett, Hellboy, Ghost, Predator, Concrete, Usagi Yojimbo, Groo, Conan, Willow, Alien, R2-D2, C-3PO, Stormtrooper, Milk & Cheese, Dr. Radium, Bone and more.