John McLaughlin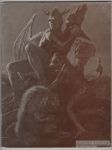 One story is lettered by Jerry Ordway.

Published in association with Inter-Fan.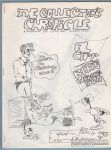 Contents include: interview with Bernie Wrightson; transcript of a 1969 talk by Al Capp; editorial on the state of comics; "The Future of TV" article; one page of poetry; more.
Characters in fan art include: Silver Surfer, Vision, Mickey Mouse, Deadman, Fandral, Triton, Doctor Mid-Nite, Sub-Mariner, Captain Marvel (DC and Marvel), the Shield, Flash Gordon, Captain America
Offset?, side stapled.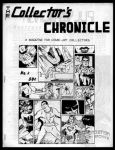 Offset, side stapled.
Contains letters from Martin Greim, Mike Howell, Anthony Kowalik and Jim Pinkoski.
[Note: At least one image in this entry was found online (probably at an auction site) and saved for personal use. And then the Database project came along! If you recognize your image we'd like to have your permission and would love to give you credit for your work. Please contact us through Site Info > About in the main menu up top.]