John Holmstrom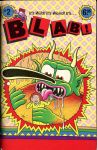 Mars Attacks interview with Len Brown, illustrated with art by Norman Saunders and Wally Wood.  Interview with Gary Arlington.  Notes from the Underground Part 2:  more remembrances of EC from numerous underground artists.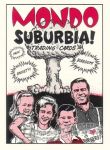 Very funny and nicely-produced trading card set featuring 26 artists' visions of suburban America.
26-card set printed in two-colors.