Joan Hanke-Woods
This is the "Horror Humor" issue.
Characters appearing include Barnabas Collins and Mr. Fix.
There may be more contributors than listed above.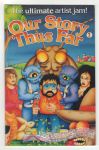 Phenomenal jam comix project organized by Brad W. Foster. Each artist contributed one page which built upon and furthered the pages completed before them.
Appearances by Gregor Samsa, Franz Kafka and cockroach-y versions of Moe Howard and Laurel & Hardy.
Full-color covers on coated stock.