You are here:  

Home

>

Dave Mitchell
Jerry Riddle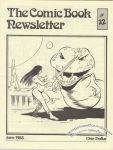 Reviews and news by Jim Pack, a column by John MacLeod and cartoons by Matt Feazell, Jerry Riddle and Tisch.
United Fanzine Organization memberzine.
Inside this issue: Bruce Sweeney's "Underground Station", a profile of Terry LaBan, "The Christian and Comics" by Don Ensign, an interview with Allen Freeman (Slam Bang), Dallas Fantasy Fair con report by David Tosh (including photos of locals), Mid-Ohio con report by Bob Corby, a column by Brad W. Foster, news, tons of minicomics reviews (including lots of cover scans and art samples), columns, letters (T.M. Maple), comic strips and more.
Roughly 11¼ × 17"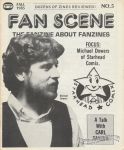 Fanzine/small press comics news, reviews, ads, some comics, interviews with Michael Dowers and Carl Taylor.
Edd Vick's long-running anthology that was often a mix of comics, prose, sf, anthropomorphics and fantasy.
This is the All Text issue.