James Gardner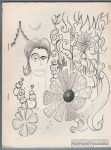 Contents include: "Prehistoric Supermen" article; Elric of Melnibone art by Gaughan; dadaesque comics by Dave Buck utilizing Marvel Comics-style imagery; and more.

Plus letters from Harvey Kurtzman, Ted White, Mae Strelkov, Ray Nelson, Jack Gaughan, and others.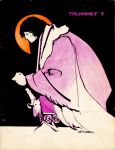 Trumpet #7 got a second printing in 1970, and was advertised in Dallascon Bulletin #5.
Features include the third installment of George Barr's adaptation of Poul Anderson's The Broken Sword, and a profile of George Barr.  Also features a portfolio by Jeffrey Catherine Jones.
Letters page includes letters from Bhob Stewart and Harry Warner Jr.