Gary Groth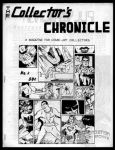 Offset, side stapled.
Contains letters from Martin Greim, Mike Howell, Anthony Kowalik and Jim Pinkoski.
[Note: At least one image in this entry was found online (probably at an auction site) and saved for personal use. And then the Database project came along! If you recognize your image we'd like to have your permission and would love to give you credit for your work. Please contact us through Site Info > About in the main menu up top.]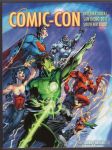 Contents include pieces on the history of comics fandom (with many fanzine profiles and scans), Lee & Kirby, anniversary tributes (Fantastic Four, Antonio Prohias' Spy vs Spy, comics in 1986, Watchmen, Dark Horse Comics, SLG, Bone), more.

Appearances in art by Fantastic Four, Justice League of America, Stan Lee, Jack Kirby, Galactus, the Watcher, Avengers, Inhumans, Black Panther, Sub-Mariner, Silver Surfer, Dr. Doom, Mole Man, Annihilus, Skrulls, Hulk, Spy vs Spy, Batman, Rorshach, Dr. Manhattan, the Comedian, Maus, the Joker, Boba Fett, Hellboy, Ghost, Predator, Concrete, Usagi Yojimbo, Groo, Conan, Willow, Alien, R2-D2, C-3PO, Stormtrooper, Milk & Cheese, Dr. Radium, Bone and more.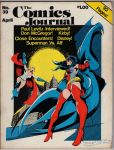 Interview with Paul Levitz, "The San Francisco Comix Scene" by Clay Geerdes.
Roughly 8¼ × 11"
United Fanzine Organization memberzine.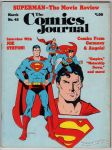 Interview with Joe Staton, indepth review of Superman: The Movie.
Roughly 8¼ × 10¾"
Other artists: Klinger (first name unknown), T. Herzog and Daly (first name unknown; Sam de la Rosa?).
Some writers/artists listed above were in the issue's list of contributors but may not be credited by the piece. It's a bit perplexing as some of the artists I can't match to art.
United Fanzine Organization memberzine.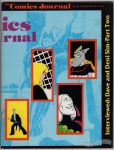 Second part of an interview with Dave and Deni Sim (Loubert).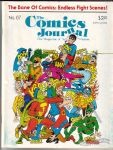 Interviews with George Metzger and Phil Yeh; Rory Hayes obituary.
Other artists: Bradkirk (first name unknown), R. Kasman (Ron Kasman?).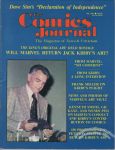 The bulk of this issue deals with Jack Kirby's then-ongoing battle with Marvel Comics over the return of his original artwork. This includes interviews, Marvel warehouse photos, a Frank Miller essay and more.

Also in this issue: Dave Sim's "A Declaration of Independence" essay, Mark Burbey on Keith Giffen's Jose Munoz art swipes, an article on Franco-Belgian comics, Carter Scholz on science fiction, and spot illos by Chas Gillen of Captain America, Conan, Alice the Goon, Popeye, Swee'Pea and Yankee Poodle.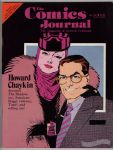 Interview with Howard Chaykin.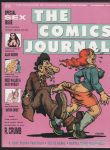 Sex Issue. Interviews with Alan Moore, Reed Waller & Kate Worley, "Anton Drek" (Don Simpson) and R. Crumb. Also: S. Clay Wilson portfolio.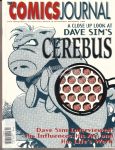 Contents include an interview with Dave Sim and tributes to Burne Hogarth and Jerry Siegel.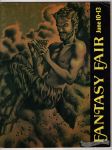 Contains photos (by Joe Bob Williams) from early '70s Dallas cons featuring Harlan Ellison, Larry Herndon, Neal Barrett Jr., Paul McSpadden, Joe Bob Williams, Howard Waldrop, Burne Hogarth, Forrest J. Ackerman, Buddy Saunders, Don Punchatz and others.
Roughly 8¼ x 11" (8½ x 11" trimmed).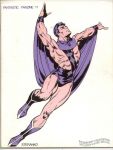 Interview with Jim Steranko.
[Note: At least one image in this entry was found online (probably at an auction site) and saved for personal use. And then the Database project came along! If you recognize your image we'd like to have your permission and would love to give you credit for your work. Please contact us through Site Info > About in the main menu up top.]