Frank Brunner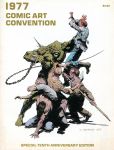 Profile of Bernie Wrightson by Bruce Jones, profile of John Stanley by Don Phelps, auto-bio by Frank Thorne, article about the annual costume parade by Jim Burns.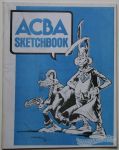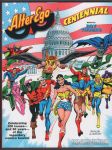 Roy Thomas on DC in the '80s; origins of Alter-Ego; tributes; The 1964 Super Hero Calendar; Fawcett Collectors of America; more.

Perfectbound book.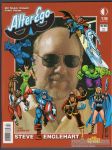 Interviews with Steve Englehart and George Mandel; Jim Miele; letterer Abe Kanegson; salute to fans Joe Vucenic and Ed Lahmann; Fawcett Collectors of America; more.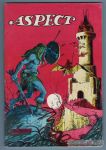 18 pages of art and comics by Barry Windsor-Smith, plus "The Golden Age of Frankenstein" article by Denis Gifford, fiction by Chris Lowder and other art by Frank Brunner (back cover), Paul Neary, Alan Hunter, Jim Baikie (cover) and Steve Parkhouse.

Characters appearing in fan art include Emma Peel (Diana Rigg) and Frankenstein's monster.
Offset printed.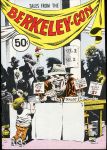 "Tales from the Berkeley-Con," underground comic format program book published by Last Gasp/Rip Off Press.  Wrap-around cover by Rand Holmes.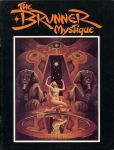 Interview with Brunner, checklist, and art by Brunner.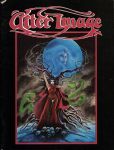 Titled "After Image," the title page says "Welcome to the second volume of The Brunner Mystique." 
Features a foreword by Margaret Lark Russell, a supplement to the checklist, Brunner's Doctor Strange covers printed from the original art, and various covers and portfolio pieces with commentary by Brunner.   Soft cover and hardcover editions were published.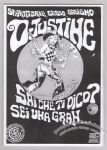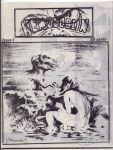 There may be more contributors than listed above.
[Note: At least one image in this entry was found online (probably at an auction site) and saved for personal use. And then the Database project came along! If you recognize your image we'd like to have your permission and would love to give you credit for your work. Please contact us through Site Info > About in the main menu up top.]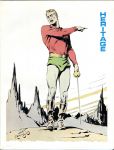 The letter was included with direct-order copies.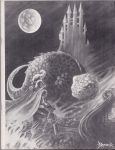 Features interviews with Frank Frazetta, Bernie Wrightson.  
There were two printings of Infinity #2, with different pages of art by Dan Adkins and Gray Morrow.  The first printing had heavy, glossy covers, and the second printing had a mat finish cover.  
There is no date on either printing, but the ad included here states that Infinity #2 was published in 1971.   The ad also states that one of the new pieces of art would be by Clyde Caldwell, but no Caldwell art appears in either printing.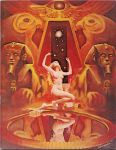 Infinity #3 was published as a two volume issue, each volume running 32 pages.
Features interviews with Jeff Jones, Frank Brunner, Bruce Jones.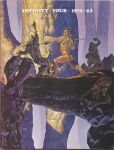 Features interviews with Mike Kaluta, Steve Harper.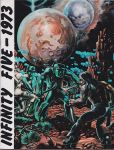 Features interview with Richard Corben.  A color print by Bernie Wrightson ("The Cryptics") was inserted as a bonus.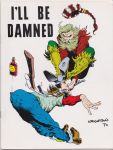 A typo in the indicia numbers this issue as #4, but an ad that appeared in RBCC #79 [see images] identifies this third issue as #3.  This was the third and final issue.
Includes an unpublished Web of Horror strip by Berni Wrightson, and Chapter 2 of an original strip by Tom Sutton called "Pilgrim," and the conclusion of the "Nest Egg" strip that started in issue #2.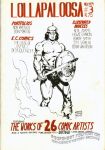 Numbered edition of 500.
Published by Mitch O'Connell?
[Note: At least one image in this entry was found online (probably at an auction site) and saved for personal use. And then the Database project came along! If you recognize your image we'd like to have your permission and would love to give you credit for your work. Please contact us through Site Info > About in the main menu up top.]