Fawn Gehweiler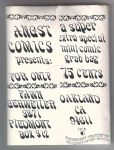 The pack I've seen contained Little Jimmy Goes to Catechism, So You Want to Be a Bohemian? and Night of the Living Death Rocker. Uncertain if the included titles were consistent.

Reviews of all sorts of zines and small press comics, plus articles, news, comic strips, etc. Cover art by Steve Willis.
Roughly 8¼ x 11½ which unfolds to 11½ x 16½".

Actually Maximum Traffic #100. Some work is borrowed from the original publication.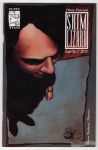 Also includes a bound-in mini-comic by k capelli.
7 × 10"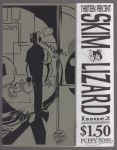 Two cover variants exist: one by Barry Futterman and one by Sean Higgins.
Cardstock cover.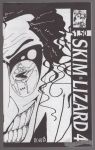 Includes a letter from Dave Sim.
5½ × 8½"
28 pages
There may be more contributors than listed above.