Faron Thompson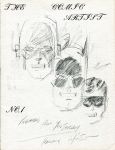 Carmine Infantino issue, featuring a short interview with Infantino, and articles about Infantino's work in the 40s, 50s, and 60s.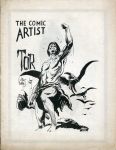 Joe Kubert issue, featuring articles about Kubert characters, and an interview with Kubert.
Characters in art include: Tor, Angel, Anthro, Hawkman, Buffalo Bill, Crimebuster, Viking Prince, Volton, Thor
Offset, saddle-stitched.
Possibly one more contributor: Grant (?)