Ed Lahmann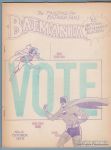 Batman-themed fanzine. Contents include: "Those Behind Batman" article; profile of collector Andrew Fraknoi; Batman-related sightings in the media; an index of Robin's solo stories in Star Spangled Comics; letters (Howie Post, Bob Butts, John Wright, others); more.
Characters in fan art include: Batman, Robin, the Eye
Ditto/mimeo, side-stapled.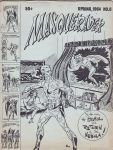 Final issue.
Len Wein's contribution is a short interview with Jack Kirby.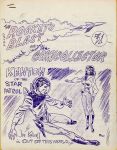 Ditto issue.  (2 pages blank.)
Editorial features include:
"Kenton of the Star Patrol" on the cover by Ronn Foss.  
"A Gallery of Heroes from Wings Comics" illustrated by Bill Spicer.  "SPOTLIGHT ON THE PROS: #5 - Steve Ditko" by Bernie Bubnis.  "THE BEST OF S-F" — Bob Harner 3rd reviews "Something Wicked This Way Comes" by Ray Bradbury.  Wonder Comics #1 tracing by Raymond Miller.  "ROCKETEER GOSSIP" by Rick Weingroff.  "A WORD FROM THE EDITOR" by GB Love.  Lash Lightning pin-up by Biljo White.  "A Reflection from the Past" by Ed Lahmann.  "BLASTS FROM THE READERS" includes LOCs from Ron Fradkin, Ray Bartel, Jerry Bails, George R.R. Martin, Ed Lahmann,  Steve Perrin, and Dennis Richard.
Ads for:
DOWN UNDER #1
KOMIX ILLUSTRATED #12
COMIC CAPER #2
FANTASY HERO #3
THE COMIC JOURNAL #1
COMIC HERO #2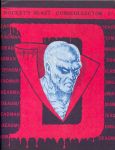 Editorial features include:
Cover by John Fantucchio.
"Super-Heroes Are Big Business" by Howard P. Siegel.
A short article about Red Ryder comic strip by Ed Lahmann.
"BLASTS FROM THE READERS" with letters from Dwight Decker and Gary Via.
Ads for: 
ALTER EGO #4, 5, 6, 7 and 8
BEYOND INFINITY #1
COMIC CHAMBER #3
COMIC INFORMER #1
CONCUSSION #6
DESTINY #1
E PLURIBUS MARVEL #1/2/3 (Special Triple Issue)
FANDOM ANNUAL #1
FANDOM CALLING
FANDOM'S AGENT
FANTASM #3
FANTASTIC FAN FICTION
FANTASY SOUNDTRACK #1
FIGHTING HERO COMICS Special Edition #1
GOLDEN AGE SUPER HERO INDEX (Mike Nolan)
GOSH WOW #2
GUTS #3 and 4
HEROES ILLUSTRATED #3
ILLUSTRATED COMIC COLLECTORS HANDBOOK #3
MARVEL-MANIA PLUS ONE CANADA
MARVEL TRIBUNE #6, 7
MASQUERADER #6
MOCK #1 and 2
NEW ERA #2
NEW WORLD OF COMICS
NIGHTMARE #1
OMPHIBLEP #5
OPINIONS & OPPOSITION #4-6
PANDORA #1
ROCKET'S BLAST SPECIAL #1 and 7
SENSE OF WONDER
SUPERZINE #5
THE CARTOONISTS' COMIC Vol. 2, #1
THE COLLECTOR #9 and 10
THE COMIC FORUM #1
THE COMIC READER #66
THE EYE #1
VALIANT #1
WHATCHAMACALLIT #4
WITZEND #4 and 5
WONDERMENT #3