Earl Blair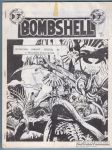 This is the "Incredible Fantasy Special #3" issue with fiction, art and comics. Contents include: a full-page drawing by Gene Klein (later Gene Simmons), ama-hero comic starring Captain Fear, a Buddy Saunders sale list, more.
Offset/ditto, side-stapled.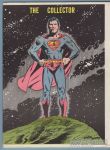 Contents include: indepth reportage on the 1971 Comic Art Convention (including Jim Warren's keynote speech, the "Comedy in the Comics" panel with Sergio Aragones & others, other panels, the Goethe Awards, Harvey Kurtzman's one-man panel, more); article on Kirk Alyn; article on Jim Steranko and Gardner Fox; article on cosplay at the con (with photos of Martin Pasko, Mike Zeck and Mike Nolan in costume); "Was Wertham Right After All?" article; The Flying Dutchman article; fiction; more.
Also contains photos of Frank Frazetta, Harvey Kurtzman, Denny O'Neil, Roy Thomas, Gil Kane, Len Wein, Neal Adams, Kirk Alyn, Gardner Fox, Phil Seuling, Jim Steranko, John Benson, Joe Sinnott, Bill Wilson, John Fantucchio, Kenneth Smith and Billy Graham.
Characters appearing include: Superman, Kirk Alyn, Jimmy Olsen, Lois Lane, Perry White, Clark Kent, Ka-Zar, Golden Age Green Lantern, Captain America (centerspread), Sub-Mariner, the Thing (by Sinnott), Captain Marvel, Green Ring (Green Lantern spoof)
Offset, saddle-stitched, some interior color.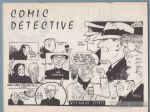 This issue's focus is Dick Tracy. Contents include: interview with Chester Gould; article on Dick Tracy villains; a Kerry Drake index; a Dell Dick Tracy Four-Color index; two sample strips from 1935 featuring a black woman who was redrawn/replaced by a white woman within days; 1931 Dick Tracy strips; letters (Max Allan Collins, Alex Toth, Steve Englehart, others); more.
Characters in fan art include: Dick Tracy, Two-Face, Haf-and-Haf, Sherlock Holmes, Charlie Chan
Offset, saddle-stitched.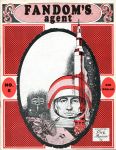 Includes reprint of Tarzan Sunday pages by Burne Hogarth, Flash Gordon Big Little Book illustrations by Alex Raymond, a Houston Con 1969 report with photos, a one-page strip by Earl Blair and Roy Bonario, and Golden Age cover reproductions.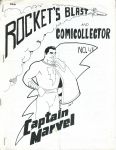 Editorial features include: 
Cover by Earl Blair.
"ROCKETEER GOSSIP" by Rick Weingroff. 
"THE ODDITY PAGE" by Raymond Miller.
"BLASTS FROM THE READERS" with a letter from Gordon Flagg Jr. 
Ads for: 
ALTER EGO #8
AMAZING MASTERS PRESENTATIONS #2
BOMBSHELL AMA-ZINE #5
COMIC FEATURE #5
COMIC LORE #1
DOLFIN COMICS #1
FANMAG ILLUSTRATED #3
FANTASY ILLUSTRATED #6
GOSH WOW #1
ILLUSTRATED COMIC COLLECTORS HANDBOOK #2
SATURDAY'S WORLD #1
STAR-STUDDED COMICS #6, #10
THE EYE #1
THE SYMBOL #5 
TINT (formerly Slam-Bang)
VANGUARD #1
WITZEND #1