Carl Barks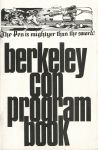 Convention organized by Nick Marcus, Mike Manyak, Jon Campbell, Clay Geerdes, John Barrett, Bud Plant, and Robert Beerbohm.   Program printed by Rip Off Press.   Comix World article by Clay Geerdes, front cover by Rick Griffin, back cover by Larry Todd.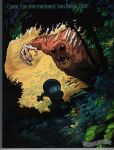 Contents include pieces on Barb Rausch and Golden Age writer Dorothy Woolfolk as well as art sections in tribute to Wonder Woman's 60th anniversary, Fantastic Four's 40th anniversary, Bone's 10th anniversary, Captain America's 60th anniversary, Carl Barks' 100th birthday and The Lord of the Rings.
Appearances in art by Bone, Wonder Woman, Huey, Dewey & Louie, Beany & Cecil, Captain America, Scrooge McDuck, Fantastic Four, Hobbits, GoGirl, Harley Quinn, Sub-Mariner, Dr. Doom, Galactus, Dragon Man, Mole Man, the Watcher, Gandalf, Bilbo Baggins, Gollum, Donald Duck, Usagi Yojimbo, Radioactive Man, Red Skull, Bucky Barnes, Baron Zemo, MODOK, Nick Fury, Giant Man, Thor, Iron Man, Falcon, Shaloman, Miss America, Cutey Bunny and others.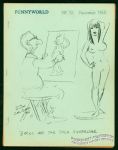 [Note: At least one image in this entry was found online (probably at an auction site) and saved for personal use. And then the Database project came along! If you recognize your image we'd like to have your permission and would love to give you credit for your work. Please contact us through Site Info > About in the main menu up top.]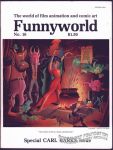 Special Carl Barks Issue
[Note: At least one image in this entry was found online (probably at an auction site) and saved for personal use. And then the Database project came along! If you recognize your image we'd like to have your permission and would love to give you credit for your work. Please contact us through Site Info > About in the main menu up top.]