C Dean Andersson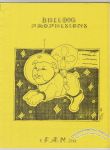 Publication of FAN (Fandom Alliance Network) and entirely produced during a 1988 Dallas Fantasy Fair.

Contents include a report on con meetings and panels, a three-page jam prose story, and a four-page jam comic.
Roughly 11 pages (one-sided), corner-stapled.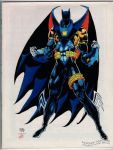 Contains a one-page Harvey Kurtzman/MAD tribute comic by David Tosh and Mark Stokes.
Scheduled guests included Forrest J. Ackerman, Sergio Aragones, Mike Allred, Clive Barker, Daniel Clowes, Mark Evanier, Ray Harryhausen, Gilbert Hernandez, Jaime Hernandez, Joe Linsner, Scott McCloud, Julius Schwartz, Mark Schultz, Reed Waller, Larry Welz, Al Williamson, Bill Willingham, Jim Woodring, Bob Burden, Brian Biggs, Steve Englehart, Gary Groth, Hanther, Denis Kitchen, Jeff Rovin, David Spurlock and many others.