Brian Lees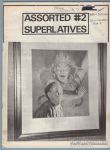 Contents incude: interview with John Celardo (with studio photos); article on the early work of Steve Ditko; a report on the Cartoonists' Fine Art Show in NYC (including photos of exhibited works by Joe Kubert, Rube Goldberg, Howie Post, Mort Walker, John Dirks, Alfred Andriola, Raeburn Van Buren and Alden McWilliams); article on the practice of swiping; three-page science fiction comic; more.
Offset, saddle-stitched.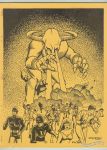 Run in CAPA-Alpha #74 (December 1970) in six sections.