Basil Wolverton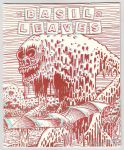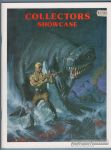 Nicely produced catalog from Collectors Book Store (Hollywood) with half-toned (and some color) reproductions of artwork for sale by Stephen Fabian, Hal Foster, Disney studio artists, Robert Williams, Milton Caniff, Winsor McCay, Bill Ward, Robert Kline, Carl Barks, Basil Wolverton, Jack Kirby, Milt Gross, Marge Henderson, Al Capp, Reed Crandall, Carl Lundgren, Virgil Finlay, Jay Lynch, Jack Gaughan, Bud Sagendorf, George Barr, Bob Zoell, Mac Raboy, Carl Anderson, Kenneth Smith and many others.

This issue also contains one-page biographical pieces on artists Vivie Risto and James McQuade.

Characters represented include: Doc Savage, Betty Boop, Disney ducks, Popeye, Henry
Offset, saddle-stitched.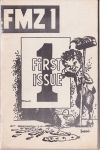 Predominantly an EC fanzine, with articles about EC freelancers, Kurtzman pre-war comics, and the EC Picture Story series.  Also features a reprint (from black-&-white stats) of Steve Ditko's 5-page story "Stretching Things," from Fantastic Fears #5 (1954), one of Ditko's first published strips, a Meteor Murphy story by Basil Wolverton, and more.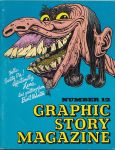 First of two Basil Wolverton issues.  Part two resumes in Graphic Story Magazine #14.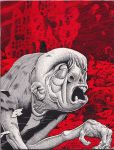 "This is the second and concluding volume of our two-part Basil Wolverton set; the first was GSM #12."
Interview with Basil Wolverton by Dick Voll.
Checklist of comic book stories by Basil Wolverton, compiled by Henry Steele and Dick Voll.  
Letters from Hames Ware, Roy Thomas, Landon Chesney, John Benson, Jim Jones.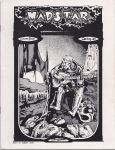 Full title: Madstar Science Fiction Quarterly.  This was this only issue to be published.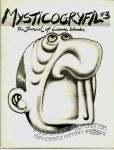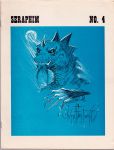 EC fanzine.  Formerly called The EC Fan-Addict.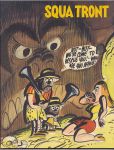 EC fanzine.  Edited by John Benson. Features the last interview with Howard Nostrand.