Anne Timmons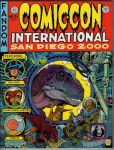 Contents include art sections in tribute to EC Comics/MAD Magazine, Charles Schulz's "Peanuts", Dinosaurs & Giant Robots, Will Eisner's Spirit and Flash & Green Lantern.
Appearances in art by William Gaines, Johnny Sokko and His Flying Robot, Frankenstein Jr., Mechagodzilla, Kona, Fred Flintstone, Ellen Dolan, Cutey Bunny, El Gato Negro, Impulse, Spark Plug, Charlie Brown, Lucy Van Pelt, Snoopy, GoGirl, Judge Judy, Quicksilver and others.
Roughly 8¼ x 10¾" (8½ x 11" trimmed)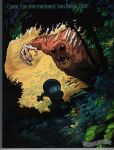 Contents include pieces on Barb Rausch and Golden Age writer Dorothy Woolfolk as well as art sections in tribute to Wonder Woman's 60th anniversary, Fantastic Four's 40th anniversary, Bone's 10th anniversary, Captain America's 60th anniversary, Carl Barks' 100th birthday and The Lord of the Rings.
Appearances in art by Bone, Wonder Woman, Huey, Dewey & Louie, Beany & Cecil, Captain America, Scrooge McDuck, Fantastic Four, Hobbits, GoGirl, Harley Quinn, Sub-Mariner, Dr. Doom, Galactus, Dragon Man, Mole Man, the Watcher, Gandalf, Bilbo Baggins, Gollum, Donald Duck, Usagi Yojimbo, Radioactive Man, Red Skull, Bucky Barnes, Baron Zemo, MODOK, Nick Fury, Giant Man, Thor, Iron Man, Falcon, Shaloman, Miss America, Cutey Bunny and others.