Alan Simons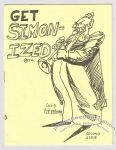 Collects caricatures of great jazz and blues artists such as Louis Armstrong, Fats Waller, Big Bill Broonzy, Blind Lemon Jefferson and others.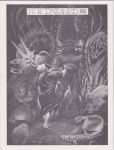 Includes a 4-page strip by Bernie Wrightson, the first chapter of "Pilgrim" by Tom Sutton, and Part 1 of "Nest Egg" written by Alan Simons and drawn by Steve Hickman and Robert Kline.
The second image is simply a color scan of the original cover painting.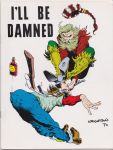 A typo in the indicia numbers this issue as #4, but an ad that appeared in RBCC #79 [see images] identifies this third issue as #3.  This was the third and final issue.
Includes an unpublished Web of Horror strip by Berni Wrightson, and Chapter 2 of an original strip by Tom Sutton called "Pilgrim," and the conclusion of the "Nest Egg" strip that started in issue #2.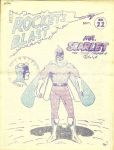 All-ditto issue.  (5 pages blank.)
Editorial features include:
Mr. Scarlet cover by Buddy Saunders.   "THE FEATURE" profiles Bob Harner 3rd.  "THE BEST OF S-F" — Bob Harner 3rd reviews "Glory Road" by Robert Heinlein.  "ROCKETEER GOSSIP" by Rick Weingroff.  "Flesh & Blood of the Ink" — article on pulps by Alan Simons.  Interior illos by Raymond Miller.   "LETTERS TO THE EDITOR" from John McGeehan, Bernie Bubnis, Tom Lauria, Bill Spicer, Marc Nadel, Alan Simons, Paul Gambaccini, and Rick Weingroff. 
Ads for:
SUPER STAR #1
CHARACTER GET TOGETHER #1 (from Vern Debes)
STAR STUDDED COMICS #2
FIGHTING HERO #5
MASK & CAPE #2
JEDDAK #2