Bob Vojtko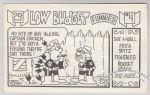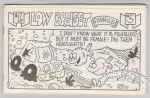 4 pages on cardstock
Signed/numbered edition of 100
4 pages on cardstock.
Signed/numbered edition of 100.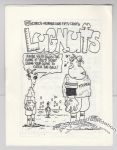 Midi Comix Series #1, Vojtkomics #21.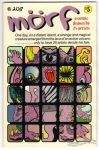 Jam comic by 25 artists in which each artist only saw the page before theirs. When all the drawings were done Billy McKay wrote a story around them.
Full-color throughout.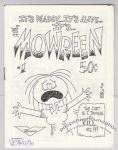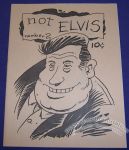 Elvis-inspired drawings.
Signed/numbered edition of 50.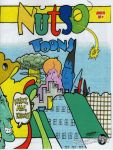 Content includes some Everyman Studios reprints along with new material. This issue debuted at DINK in Denver, Colorado.
8½ x 11"
36 pages
Full-color wraparound cover

Outside In was a mini that collected artist self-portraits.
Other contributors I'm not sure about: Smestad, Hill (Mike?), Boyle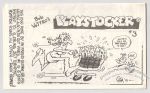 Kennedy #1554.
7 × 4¼", which opens up to 7 × 8½"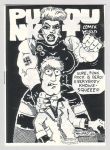 Punk rock-themed cartoons.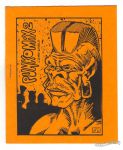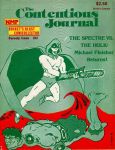 This was the final issue, until Van Hise resumed as both editor and publisher with a "New First Issue" in May 2000.
PARODY issue, with parodies of THE COMICS JOURNAL and STARLOG.
Editorial features include:
Cover by John Turek.  
"What's So Funny About Comics?" by Robert Strauss. 
"MAD Index 1-23" by Bill Hansen and Dan Ciminelli. 
"The Truth About Pirate's Gold" (about the Donald Duck story by Carl Barks) by Jim Korkis. 
"The Case of the Bogus Avery" by Jim Korkis. 
"Captain Kentucky: The Comic is Put Back Into Comic Strips" by James Van Hise. 
"CRITIQUE" fanzine and comix reviews by Robert Strauss, Vernon Clark, and JVH. 
"THE OLD BOOKDEAL'R — GUD BOOX" by Stephen Bissette.  "COMICOPIA" by RC Harvey. 
"MARK BURBEY'S INTERVIEW," featuring a transcript of a radio interview with Moe Howard. 
"The Three Stooges in Nuclear Knuckleheads" by Mark Burbey, Richard "Grass" Green, and Eddie Eddings.  
(The Three Stooges material in this issue was from a one-shot Stooges fanzine Mark Burbey was putting together, but was never published because Norman Maurer required a $2500 licensing fee to proceed.)
Ads for:
ENTERPRISE INCIDENTS 
MONSTER INVASION Portfolio by Jim McDermott and Steve Fiorilla
PORTIA PRINZ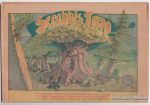 Full-color covers and centerspread.