Bill Spicer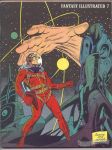 [Note: At least one image in this entry was found online (probably at an auction site) and saved for personal use. And then the Database project came along! If you recognize your image we'd like to have your permission and would love to give you credit for your work. Please contact us through Site Info > About in the main menu up top.]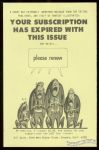 [Note: At least one image in this entry was found online (probably at an auction site) and saved for personal use. And then the Database project came along! If you recognize your image we'd like to have your permission and would love to give you credit for your work. Please contact us through Site Info > About in the main menu up top.]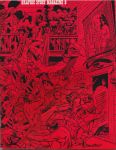 Letters page includes letters from Jeff Jones, Tom Sutton, John Benson, Charles Biro, Richard Kyle.  Issue also included results of Graphic Story Magazine Poll.
Graphic Story Magazine #9 had two printings, with slightly different covers using the same illustration by Tom Sutton.  Difficult to say which came first.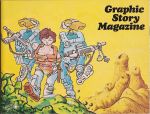 Features interviews with Alex Toth and Rudy Larriva.  Letters from Mike Barrier, John Benson, Harvey Kurtzman, Howard Waldrop, Hames Ware, Jim Jones, Ron Harris, Jim Gardner, and John Ryan. 
[Note: At least one image in this entry was found online (probably at an auction site) and saved for personal use. And then the Database project came along! If you recognize your image we'd like to have your permission and would love to give you credit for your work. Please contact us through Site Info > About in the main menu up top.]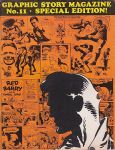 Special issue dedicated to Will Gould and his strip, "Red Barry."
Letters from Jerry De Fuccio, Dick Voll, Stanley Pitt, Alan J. Hanley, Roy Thomas, Jim Harmon, Hames Ware, Jim Jones, Jim Gardner, Larry Ivie, Howard Waldrop, Bill Blackbeard, John Benson, Frederic Wertham.
Results of Graphic Story Magazine Poll.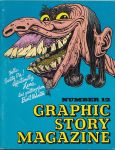 First of two Basil Wolverton issues.  Part two resumes in Graphic Story Magazine #14.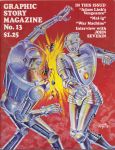 Interview with John Severin by John Benson.  
Letters from Hames Ware, Mike Barrier, William F. Nolan, Alan Hewetson, Jerry De Fuccio, Alain Resnais, Jim Ivey, Jim Harmon, Gahan Wilson, Bill Blackbeard.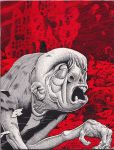 "This is the second and concluding volume of our two-part Basil Wolverton set; the first was GSM #12."
Interview with Basil Wolverton by Dick Voll.
Checklist of comic book stories by Basil Wolverton, compiled by Henry Steele and Dick Voll.  
Letters from Hames Ware, Roy Thomas, Landon Chesney, John Benson, Jim Jones.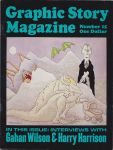 Interviews with Gahan Wilson and Harry Harrison.
An excellent primer from early fandom acquainting newcomers with terminology, comic book and comic strip history, comic grading, original art collecting, the origins of fandom, and ads for quality fanzines and dealers.  Published by the editor and publisher of Fantasy Illustrated/Graphic Story Magazine, Bill Spicer.
[Note: At least one image (front/back shot and interior sample) in this entry was found online (probably at an auction site) and saved for personal use. And then the Database project came along! If you recognize your image we'd like to have your permission and would love to give you credit for your work. Please contact us through Site Info > About in the main menu up top.]