Allen Freeman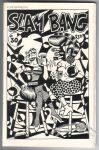 Contents include a seven-page interview with Clay Geerdes.
Cardstock cover
There may be more contributors than listed above.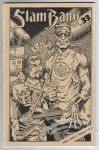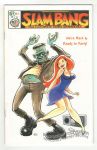 Versions with and without full-color cover exist.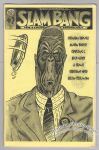 Copies exist with two different yellow cover stock.
5½ × 8½"
32 pages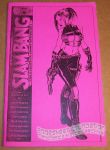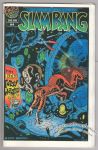 5½ × 8½"
44 pages, color covers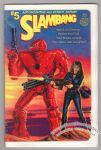 Robot-themed issue.
5½ × 8½"
64 pages
Color covers, full-color centerspread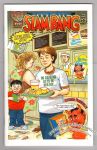 5½ × 8½"
40 pages, color covers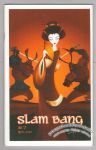 5½ × 8½"
36 pages
Color covers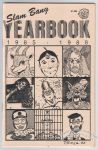 Produced around the release of Slam Bang #20, this is a collection of bios and self-portraits for most contributors to the anthology for the three years it had thus far been published. The bios contains bits of history, other places you can find the contributors' work, etc.
Cardstock cover.
There may be more contributors than listed above.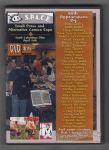 Video shot at the 2005 Small Press and Alternative Comics Expo in Columbus, Ohio. Appearances by Bob Corby, Todd Ritter, Troy Cooksey, Dave Sim, Gerhard, Matt Feazell, Bruce Chrislip, Rafer Roberts, Ian Shires, Philip Clark, Larry Blake, Christina Wald, Donovan Cater, Jeff Manley, Sean McCarthy, Christian Beranek, Soren Lundi, Steve Hamaker, Rick Silva, Melby Comics, Nic Havert, Mike Indovina, Millard Draudt, Chris Dunsmore, Martin Hirchak, Tony Goins, Craig Bogart, Greg Carter, Tim Corrigan, Larned Justin, Dan Lauer, Drew Boynton and others.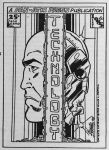 Some (if not all) covers are hand-colored by airbrush.
The cover image was taken from a news release in The Fandom Journal #3 (Kevin Collier, 1985). A proper cover scan would be preferable.
8 pages?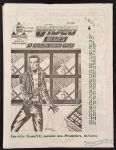 Advertisement for Cary Baker's Video Blues (Fan-Atic Press) from the back cover of APC Tales #14.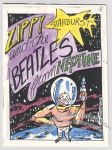 Versions exist with both 'Zippy' and 'Zappy' as the first word of the title.
The Zippy version may be the first.
The Zappy version (1985) is a signed/numbered edition of 100.
Both have hand-colored covers.
4¼ × 5½"
8 pages