1984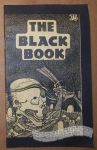 4¼ × 7"
Cardstock cover
Hand-placed cover image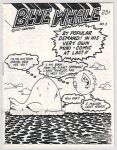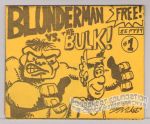 Printed on a single sheet of 8.5" x 14" paper. Unfolded, the reverse side features a Blunderman poster.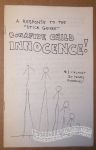 Mini-collection of childhood drawings by Steve Willis.
3rd edition, 1st HSC printing.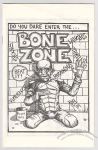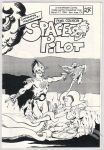 Ed Savage (ShadowStar) transforms Willy Aguilar's "Ozcrobb" strip into humorous sci-fi. This comic was produced for the San Jose Collectors' Con in 1984.
7 × 10¼"
Signed/numbered edition of 50.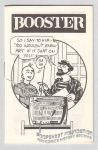 Noted on the inside as "a graphic forecast in anticipation of WRAB -- Pirate Television".
HC183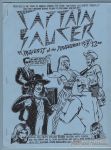 Punk/newave-influenced retro/future sci-fi minicomic by Doug Holverson (Interstellar Overdrive, Fanboy).
This issue's got a fold-out Flexia Bast poster by Holverson and a Flexia pin-up by Brad W. Foster.
Two printings/editions: magazine and digest. I believe the magazine is the 1st.
1st printing?: magazine, 1984
2nd printing?: 5½ x 8½" digest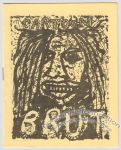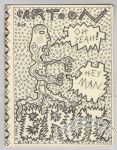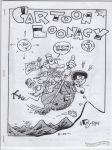 Some of the contents include: a two-page jam comic by George Erling and Craig Yoe, an eight-page Morty the Dog comic by Steve Willis

Characters appearing in art and comics include: Morty the Dog, Beanworld
Fewer than 50 copies usually printed (probably more like 25).
Centrail Mailer for this issue: George Erling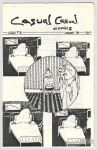 Possibly 12 pages plus covers.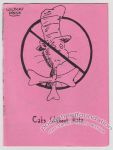 [Note: At least one image in this entry was found online (probably at an auction site) and saved for personal use. And then the Database project came along! If you recognize your image we'd like to have your permission and would love to give you credit for your work. Please contact us through Site Info > About in the main menu up top.]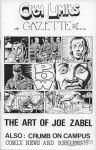 Contents include: the second part of the Gary Larson interview; an interview with Joe Zabel; Bruce Sweeney's "Underground Station" column (logo by Foster); the story of seeing Robert Crumb speak at Washington State University; underground reviews; letters from Steve Willis, David Miller, Bob Conway, Jim Ryan and Jay Lynch; more.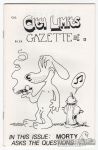 Bruce Chrislip's info zine for underground and newave comix.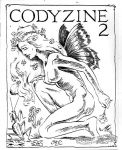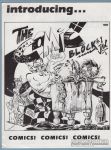 Adzine. Contents include a Checkered Demon cover by S. Clay Wilson, Bruce Sweeney's "Underground Station" column (logo by Brad Foster), a one-page Dog Boy comic by Steve Lafler, a quarter-page display ad by Michael Roden, a quarter-page ad for original art illustrated by S. Clay Wilson, a XNO ad for XEX Graphix, more.
Saddle-stitched.