8½ x 11" (magazine)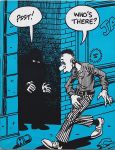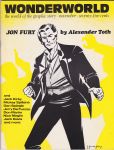 Final issue. 
Letters page includes letters from Ron Haydock, and Michael Cherkas.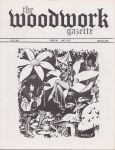 Described in the indicia as "the official organ of the FRIENDS OF ODKIN," and published by Wood.  Includes "The Word from Wood," a letters page including letters from John Hitchcock, Jonathan Victor, and Richard Pryor (publisher of Wood's Weird Sex Fantasy Portfolio).  Also features an interview with Wood by Rick Stoner, and a page where Wood shares his thoughts about "The World of the Wizard King" and his efforts to create a magazine for James Warren.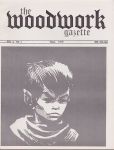 Features updates from Wood about his various self-published projects, and a letter section including letters from Paul Kirchner, George Erling, Jackie Estrada, Jim Wisniewski, Robin Snyder, and Martin Greim.  Also included in this issue is Wood's original version of "The End," a story that appeared in 1984, albeit heavily altered and re-written by James Warren and Bill Dubay.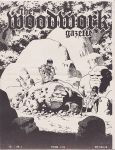 Features updates from Wood about his various self-published projects and convention appearances, and a letters section including letters from Max Allan Collins, Andrew Offutt, and Jack Robinson.  Also features Part One (A thru I) of a checklist of work by Wood.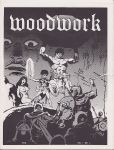 Title changed to WOODWORK with this issue, and editing and printing chores taken over by Jack Robinson.  Features "A Word From Wood" about the status of his self-publishing efforts, a letters section including letters from Richard Bassford, John Hitchcock, Bill Loebs, Robert Barrett, and Jack Robinson, and Part Two (I thru Y) of a checklist of work by Wood.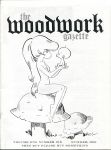 Described as "mostly a catalog of Wally Wood books and items for sale."
Main feature is a detailed checklist, primarily combining the checklists published in The Woodwork Gazette #3 and 4.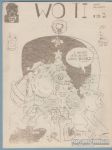 Art and comics plus an interview with collector David Friedlander.
9 one-sided pages, corner-stapled.
Published in 1977?
There may be more contributors than listed above.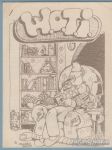 Art and comics plus an article on horror movies.
George Erling may also be a contributor.
9 one-sided pages, corner-stapled.
This issue isn't numbered but I'm assuming it's #4 because of the reference to #3 in the cover art.
Published in 1977?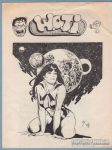 Contents include: an interview with Martin L. Greim, a Cap'n Retro comic, a report on Ray Harryhausen's soon-to-be-released Sinbad and the Eye of the Tiger, more.
Published in 1977?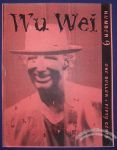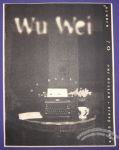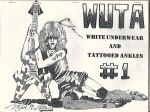 Debut issue of this APA (Amateur Press Alliance) published by Scott Phillips and Randy Clark. Both covers are by Randy Clark and John Howard.

Prospective members for the next issue included John Howard, David Miller and Tim Fuller.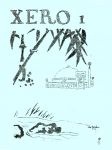 Xero was a key building block in the creation of comics fandom. Produced by Dick and Pat Lupoff with Bhob Stewart (uncredited), it was a widely circulated science fiction fanzine that began to examine comic books thru the pivotal series "All In Color For A Dime."  Those articles help focus the attention of would be comic fans in comic books, and the entire series was later reprinted in book form. Xero went on to win a Hugo, and some of the articles were reprinted many years later in a hardback book. In Flyer #5, the supplement to Xero, Dick Lupoff mentioned that the circulation of the zine was 160 copies. No copies were for sale, and no subscriptions were ever accepted. It was only available by direct mailing with recipients getting one free first time copy, and you only got subsequent issues by trading your zine for it, or writing letters of comment (long letters, not just post cards and thank you notes), or writing articles for the publication. 38 pgs, mimeographed on twiltone paper, side-stapled. Contents include:
Cover by Joe Sanders who never became famous for his art, but became a highly regarded science fiction critic and scholar.
"Xerogenisis" Editorial by Dick Lupoff
"The Insidious Mr. Word" book review by Pat Lupoff
"Psycho" movie review by Harlan Ellison "Frankly, I had the shit scared out of me."
"The Worlds of Titus Groan" book review by Pat Lupoff
"Crossword Horror" crossword puzzle by Frank Arthur Kerr
"And All in Color for a Dime - The Big Red Cheese" 1st installment of this influential series of articles on comic books by Dick Lupoff with spot illoes by T. Heif (tracings by Dick, Pat or Bhob Stewart)
"Reverberations of the Rumble" letters from Hal Shapiro, Harry Warner Jr, Pat & Dick Ellington, Earl Kemp, Don Ford, Joe Sanders, Rory Faulkner, Lew Forbes, Ted PaulsF. H. Busby
"Absolute Xero" another editorial by Dick & Pat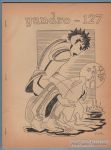 Science fiction fanzine. Art by DEA (Margaret Dominick), George Barr, Dan Adkins, ATom (Arthur Thomson), Robert E. Gilbert and others.
Mimeo printed.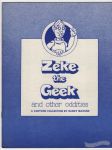 Printed in blue ink throughout.
1st printing: June 1982
2nd printing: May 1985 (pictured above)