Carl Taylor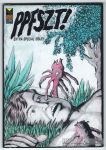 Contents include tributes to Wade Busby and Tim Corrigan, a bit of fiction, and lots of comics and art.
Publisher/Managing Editor: Jim Main
Editor/Interior Production: Robert J. Sodaro
Cover Production: Marc Haines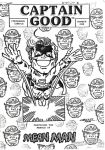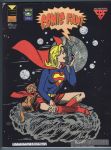 Fanzine put together by Jim Main, Sam Gafford and Richard Sullivan. Contents include: article about Ramona Fradon; article on the Harvey Thriller series; a profile of Don Newton; a tribute to John Carbonaro; article on Charlton Premiere; article on Archie Adventure heroes; article on the early appearances of Ant-Man; article about Nick Cardy; a Silver Age-themed portfolio by Larry Blake; article on the Silver Age Superboy; article on Marvel's Captain Marvel; 2009 Stumptown Comics Fest photo report; 2009 SPACE report (lots of photos); lots of mainstream and small press comic reviews.
Characters appearing in fan art include: Supergirl, Herbie the Fat Fury, Vision, Deadman, THUNDER Agents, Green Goblin, Bee Man, Jigsaw, Spyman, the Fly, Shield, Fly Girl, Hangman, Black Hood, the Web, Aquaman, Mera, Metamorpho, Justice League of America, Teen Titans, Angel and the Ape, Ant-Man, Wasp, Wonder Girl, Bat Lash, Prowler, Batman, Robin, Black Panther, Green Lantern, original Avengers, Fantastic Four, Flash, original X-Men, Superboy, Krypto, Captain Marvel, Legion of Super-Heroes
Small Press Syndicate / United Fanzine Organization memberzine.
Perfect bound.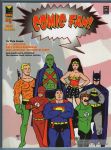 Fanzine put together by Jim Main, Sam Gafford, Tim Goebel and Marc Haines. Contents include: a 1976 interview with John Byrne; "Justice League Evolution" article; superhero gadgets and tools; profile of artist Carl Taylor; "The New Mike Sekowsky: Appreciating His Radical Years" article; "Capt. George's Vast Whizzbang Organization" article (about Captain George Henderson); Alan Moore comic book moments; lots of mainstream and small press comics reviews; more.
Characters appearing in fan art include: Jack Kirby, the Demon, Mister Miracle, Kamandi, Captain America, Galactus, Silver Surfer, Thor, Justice League of America, Superman, Supergirl, Captain Marvel (Marvel and DC), Justice Society of America, Martian Manhunter, Iron Fist, Howard the Duck, ROG-2000, Man-Thing, Swamp Thing, Alan Moore
Perfect bound.
United Fanzine Organization memberzine.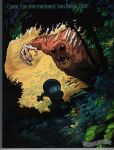 Contents include pieces on Barb Rausch and Golden Age writer Dorothy Woolfolk as well as art sections in tribute to Wonder Woman's 60th anniversary, Fantastic Four's 40th anniversary, Bone's 10th anniversary, Captain America's 60th anniversary, Carl Barks' 100th birthday and The Lord of the Rings.
Appearances in art by Bone, Wonder Woman, Huey, Dewey & Louie, Beany & Cecil, Captain America, Scrooge McDuck, Fantastic Four, Hobbits, GoGirl, Harley Quinn, Sub-Mariner, Dr. Doom, Galactus, Dragon Man, Mole Man, the Watcher, Gandalf, Bilbo Baggins, Gollum, Donald Duck, Usagi Yojimbo, Radioactive Man, Red Skull, Bucky Barnes, Baron Zemo, MODOK, Nick Fury, Giant Man, Thor, Iron Man, Falcon, Shaloman, Miss America, Cutey Bunny and others.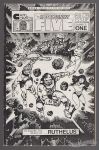 Each issue contained an original sketch on the inside back cover.
Numbered edition.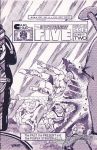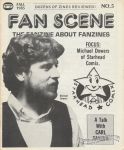 Fanzine/small press comics news, reviews, ads, some comics, interviews with Michael Dowers and Carl Taylor.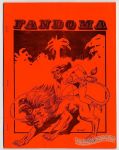 Black & white interiors, covers printed on colored card stock.
Three issues in this series.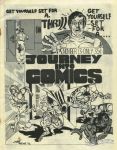 [Note: At least one image in this entry was found online (probably at an auction site) and saved for personal use. And then the Database project came along! If you recognize your image we'd like to have your permission and would love to give you credit for your work. Please contact us through Site Info > About in the main menu up top.]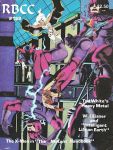 James Van Hise remains as editor, but publishing has been assumed by New Media Publishing.
Editorial features include:
Cover by Ron Wilber.
"The Mutant Handbook" by Kurt Busiek and Scott McLeod. 
"Intelligent Life on Earth" (review of Will Eisner's "Life on Another Planet") by Robert Strauss. 
"CRITIQUE" fanzine and comix reviews by Robert Strauss, and James Van Hise. 
"The Empire Strikes Mitch" by Ken Mitchroney. 
"Metal and the White Boy's Cool" (about Ted White's tenure at Heavy Metal) by Robert Strauss. 
"The Return of the Lone Ranger" by JVH. 
"Megacon Blues," strip by Doug Potter. 
"An Interview with Mike Friedrich" by Gerald Brown. 
"The Invasion of the Body Snatchers" (book/movie/book/movie review) by JVH. 
"Weird Tales: Back from the Dead and Needing a Facelift" by JVH.  "Have Broom, Will Travel" (a review of Broom-Hilda" Life Begins at 1500" by JVH.   
Ads for:
COMICS FEATURE
ENTERPRISE INCIDENTS 
MONSTER INVASION Portfolio by Jim McDermott and Steve Fiorilla
PORTIA PRINZ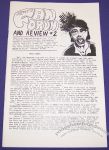 Discussion zine. Only some issues contain reviews.
Letter writers include Rick Howe, Jim Main, David Heath Jr., Jim Pack, Carl Taylor and others. Topics include religion/morality, small press controversy, and small press distribution.
5½ × 8½"
20 pages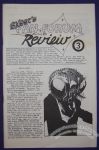 Discussion zine. Only some issues contain reviews.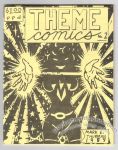 Theme for this issue was superheroes.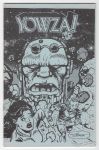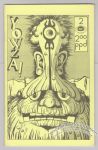 Contents include a five-page cartoon tribute to the Three Stooges.

Other characters appearing include Cloak & Dagger, Ratman, Ronald Reagan, Galen the Saintly, the Ruz, Howie the Hat, Captain America, Longshot and Renegade Rabbit.

United Fanzine Organization memberzine.

There's also a Greg Young listed on the contributors page but I honestly can't figure out what he did (if anything) in this issue.
Cover printed on mottled cardstock.
What Is This Site?
A virtual archive of mini-comics, fanzines, small press comics, newave comix and related items. The physical archive, housed at PF headquarters, is being built with personal acquisitions as well as generous donations from supporters. This project is most definitely a work in progress.