Bill Cantey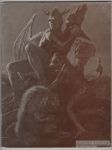 One story is lettered by Jerry Ordway.

Published in association with Inter-Fan.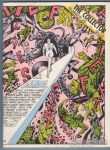 Contents include: six-page Mr. A comic and wraparound cover; biography of Ken Barr; a Tarzan art portfolio; a John Fantucchio portfolio (with color centerspread); "The By-Products of Adventure" (radio drama); biography of Joe Sinnott; a "Greenhorn" comic by Hanley (Marvel/DC parody); a brief interview with C.C. Beck; a gorgeous 10-page Hyperman comic; letters (Al Hewetson, Kenneth Smith, Joe Kubert, others); more.
Characters include: Batman, Tarzan, Superman, Deadman, Lone Ranger, the Old Witch (EC Comics), Captain Marvel, Captain Marvel Jr., Cthulhu, Doc Savage
Offset, some interior color, saddle-stitched.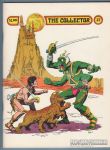 Contents include: article on Edgar Rice Burroughs adaptations from DC Comics (Tarzan, Korak, John Carter); "The Legacy of Edgar Rice Burroughs" article; a look at ERB character Ghek; an eight-page NoMan story by Pinkoski (T.H.U.N.D.E.R. Agents); portfolio of western art by Don Newton; a Greenhorn comic by Hanley (Marvel/DC parody); interview with Gray Morrow; eight-page "J Series" comic by Ditko; letters (Russell Myers, others); more.
Characters include: John Carter, Dejah Thoris, NoMan, Ghek, Darkseid, Glorious Godfrey, Desaad, Kalibak, Batman, Captain Marvel, Broom-Hilda, The Old Witch (EC Comics)
Offset, some interior color, saddle-stitched.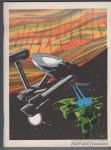 Contents include: interview with Walter Koenig (Ensign Chekov); "Star Trek Revisited" article; production drawings for the Star Trek animated series; three articles on the Captain Marvel family, villains and 1940s serials; one-page profile of Kurt Schaffenberger; a Collector cover gallery; two pages of Zero Hero by Harvey; four-page Steve Ditko comic; "A Short History of Pulp Fandom" article; "The Heroes of Nostalgic Literature: Pulps vs Comics" article; article on the resurrection of Will Eisner's Spirit; article on the Perry Rhodan series; 10-page Greenhorn comic by Hanley; letters (Bill Gaines, others); more.
Characters include: William Shatner/Captain Kirk, Leonard Nimoy/Mister Spock, Nichelle Nichols/Lt. Uhura, USS Enterprise, the Demon, Superman, Captain Marvel, Sivana, Captain Marvel Jr., Mary Marvel, Superman, Mr. Mind, the Shadow, Doc Savage, the Spirit, Lightray, Darkseid, Mister Miracle, Big Barda, Alley Oop
Offset, some interior color, saddle-stitchd.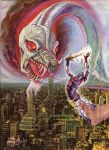 Interview with Howard Purcell, John Fantucchio portfolio, NY Con 1970 report, Multicon 1970 report. 
Oversized: 9 x 12 inches.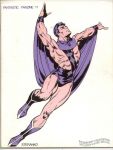 Interview with Jim Steranko.
[Note: At least one image in this entry was found online (probably at an auction site) and saved for personal use. And then the Database project came along! If you recognize your image we'd like to have your permission and would love to give you credit for your work. Please contact us through Site Info > About in the main menu up top.]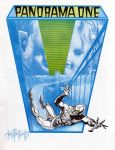 Bill G. Wilson, in Ken Meyer Jr's Ink Stains:
"I did Panorama as a convention one-shot prior to Phil Seuling's '71 con – in fact, there are pics of my dad and Kenneth Smith (!) hawking copies of it at my table in The Collector 24. About the color: I was experimenting with color reproduction as I gained more experience running the ol' A.B. Dick 360 offset press at Prince Printing, and John Fantucchio's great cover gave me the opportunity and inspiration to do even more. Registering color with multiple passes on a single-color press – especially printing its max sheet size of 11×17 – was no mean feat, and the success with Panorama gave me the confidence to explore full four-color, which I then used throughout The Collector from #24-on."
What Is This Site?
A virtual archive of mini-comics, fanzines, small press comics, newave comix and related items. The physical archive, housed at PF headquarters, is being built with personal acquisitions as well as generous donations from supporters. This project is most definitely a work in progress.